Products | Snub pulleys
Snub pulleys are conveying system components that are individually designed and manufactured in different sizes and for different conveying requirements. Snub pulleys are used to increase the wrap angle of the conveyor belt to reduce the pulling force of the belt. Snub pulleys can therefore optimise the cost of your conveying system, since they reduce the belt tension which means that a conveyor belt with a lower belt strength can be used for the same purpose.
When using conveyor belts with a textured surface, Ambelt® recommends the use of pulley lagging. Depending on the application, either rubber, ceramic or PU are recommended as coating material, which are also part of the Ambelt® product portfolio.
For inquiries, please directly refer to the Ambelt® Serviceteam.
Contact
Ambelt® Förderbänder
Kreuztor 2
38126 Braunschweig
T. +49 (0) 531 609 440 211
F. +49 (0) 531 180 544 57
E. info@ambelt.de
Ambelt® catalogue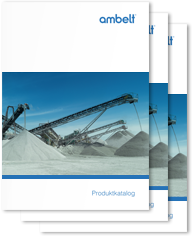 Download »