Products | Sliding conveyor belts
Sliding conveyor belts are operated on sliding tables and are always used wherever conveyors do not work with a rolling structure for technical reasons. Ambelt® sliding belts are always manufactured according to DIN 22102. Compared to standard conveyor belts, they have a lower friction between the belt and the framework, since the bottom of the belt is made of smooth running textile instead of rubber. This minimizes the wear on the conveyor belt and increases customer efficiency. Ambelt® also provides oil resistant belts and cross-rigid XE specifications.
Application areas:
Airports
Wood industry
Food industry
Parcel services
Recycling plants
Packaging industry
For inquiries, please directly refer to the Ambelt® Serviceteam.
Contact
Ambelt® Förderbänder
Kreuztor 2
38126 Braunschweig
T. +49 (0) 531 609 440 211
F. +49 (0) 531 180 544 57
E. info@ambelt.de
Ambelt® catalogue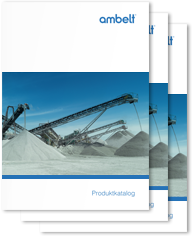 Download »