Products | Chevron belts
For gradient angles of more than 18°, bulk material cannot be transported using ordinary textile conveyor belts. Chevron conveyor belts are used instead. As there are many different application areas, flow rates and operational specifications Ambelt® provides an abundant portfolio of open and closed profile types. For individual client requests regarding the height or type of profile, tailor-made solutions can be realized.
Ambelt® also provides chevron belts in RipStop/Breaker version, as well as in cross-rigid, heat resistant, flame-retardant and oil resistant quality.
Application areas:
Hafen- und Umschlagtechnik
Holzindustrie
Hüttenwerke
Kraftwerke
Kohleindustrie
Landwirtschaft
Recyclingindustrie
Sand- und Kiesindustrie
Steinbrüche
Zementwerke 
Technical data


For inquiries, please directly refer to the Ambelt® Serviceteam.
Contact
Ambelt® Förderbänder
Kreuztor 2
38126 Braunschweig
T. +49 (0) 531 609 440 211
F. +49 (0) 531 180 544 57
E. info@ambelt.de
Ambelt® catalogue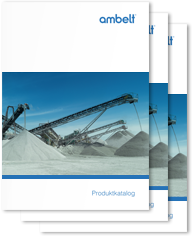 Download »