Products | RipStop/Breaker conveyor belts
Sharp-edged goods and the impact of goods under unfavourable conditions may cause expensive longitudinal rips and breakthroughs in the belt. In order to avoid this, Ambelt® offers special steel breaker belts featuring a cutting protection layer (RipStop) on top of the textile carcass. Upon enquiry Ambelt® offers diverse types (i.e. textile breaker conveyor belts) and qualities.
Application areas:
Iron and steel industry
Foundries
Stone quarries
Cement plants
Belt model
Technical data
For inquiries, please directly refer to the Ambelt® Serviceteam.
Contact
Ambelt® Förderbänder
Kreuztor 2
38126 Braunschweig
T. +49 (0) 531 609 440 211
F. +49 (0) 531 180 544 57
E. info@ambelt.de
Ambelt® catalogue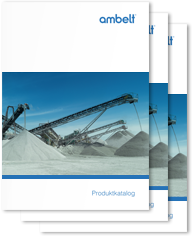 Download »