News | Archive
Ambelt® is always in for something new.
05.03.2020: Ready, Steady, Fair.
UPDATE – new date! Once again Ambelt® will be represented with its own booth at the Solids fair in Dortmund. Visit Ambelt® at booth C19-4 on June 24th and 25th 2020. It is already the 10th trade show where national and international exhibitors present their technologies and solutions for the processing, handling, storage, transport and analysis of powders, granules and bulk solids. If you would like us to invite you to the fair, please contact us.
For more information, see: https://www.solids-dortmund.de/en/
15.12.2019: AEO-C stauts of EU
On November 1st 2019 Quaddro Group GmbH has become an authorized economic operator (AEO) of the European Union, by receiving the the AEO-C status (authorization number: AEO C128563). By obtaining this status, customs relief is granted to Quaddro Group GmbH, which simplifies and accelerates the export of goods to participating third countries.
Further information about the topic AEO-C can be found under the following website:
https://ec.europa.eu/taxation_customs/dds2/eos/aeo_home.jsp?Lang=en
02.04.2019: Anniversary - 10 years of Ambelt®
10 years ago Barak Obama became president of the United States of America, the highest building worldwide was finished in Dubai (Burj Khalifa, 828 meters), the king of pop Michale Jackson died, Volkswagen bought Porsche, Lionel Messi was titled best soccer player of the year (again), the Pope got his own YouTube channel, Avatar was one of the first big 3D movies in cinemas.. and in the center of Germany, in a cozy town called Braunschweig the brand Ambelt® was found. We want to thank all companions for the trust and the collaboration. We are looking forward to many more years of great partnership!
06.12.2018: Review – Solids 2018
Ambelt® Förderbänder was represented with a booth for the fourth time on the key platform for bulk and recycling technologies on 7th and 8th November 2018 among 500 other exhibitors and about 6000 visitors.
We are glad about our strengthened relationship to our loyal and appreciated customers as well as about the positive feedback of national and international industry professionals concerning our attractive product range.
Warmest thanks to all those who contributed to this successful event!
06.11.2017: Start of construction works
The groundbreaking on the 6th of November 2017 initialized the construction works on our new premises in the industrial area Braunschweig / Rautheim. It is located directly next to the motorway A39 with connection to Wolfsburg / Kassel / Hannover.
On the 5000 m² grounds a modern office building, a workshop hall according to the latest standards as well as a wide outdoor storage area will be realized. We are happy to be able to offer to our clients shortest delivery times and an even larger range of conveyor belts as in the past.
We are looking forward to moving into our new premises planned for May 2018.
26.10.2017: Review of the SOLIDS Dortmund 2017
The trade show "Solids" is considered as the key platform for bulk and recycling technologies. In 2017, 500 exhibitors and round-about 6,800 specialists visited the fair on the two exhibition days.
For the first time, Ambelt® participated in the guided tour organized by the exhibition management introducing the product "Permaflex" to a selected audience during a live-presentation. The national and international audience was stunned by the easy-to-handle application and that the repaired area was touch dry in 30 seconds only.
As in the years before, the Ambelt® booth provided the framework for the exchange of thoughts with our loyal and esteemed customers as well as with new prospective business partners, increasingly approaching us based abroad, both within and outside of Europe.
We are very pleased to have had the opportunity to get in touch with you and look forward to be once more part of the "Solids" in Dortmund in 2018!
14.09.2017: Ambelt® "builds bridges"
"Building Bridges" is a platform for social projects in and around Braunschweig, Germany. For the first time, this year, Ambelt® participated in a come-together of its employees and an organisation that is in need of time, material and workforce for the realization of a project. The "Diakonie Kästorf" is a facility for welfare and social work in Wolfsburg where people with mental disorders and their attachment figures have room to meet, talk and participate in social activities and groups.
The Quaddro Group GmbH gave a donation for the material as well as valuable work time of Marko, Lutz and Miriam to the "Diakonie Kästorf". We realized together with the caregivers and the beneficiaries of the welfare center the installation of two raised beds for flowers and vegetables as well as three garden seats made of pallets to make it a little more comfortable and pleasant for the users of the facility.
01.06.2016: Pulley lagging: mini diamond profile
Ambelt® pulley lagging consists of high-quality synthetic rubber compounds which makes it first choice for excellent wear and corrosion protection. The mini diamond profile quickly drains off rain water and dirt and therefore increases availability of the conveyor belt system.
Ambelt® pulley lagging mini diamond are available on stock in the measure 2,000mm x 10,000mm and in the thickness 8, 10 and 12mm. Available in customer specific thickness and colours upon request.
01.05.2016: Sidewalls
Ambelt® sidewalls show distinguishing quality characteristics as to wear resistivity and flexibility.
Depending on the application area, conveying capacity and customer specifications different sidewall heights are applicable. The ambelt® portfolio comprises heights 40mm to 500mm which are also available with fabric reinforcement.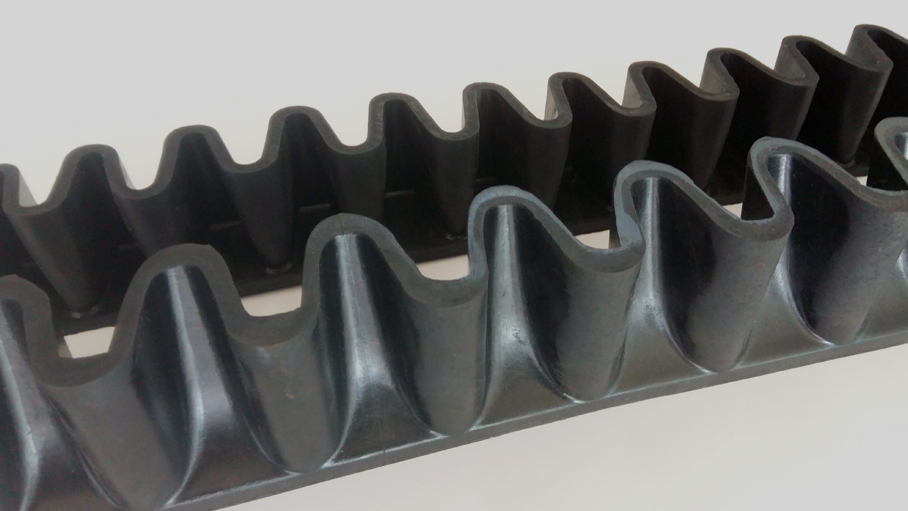 01.03.2016: Ambelt® Permaflex
Ambelt® Permaflex is universally applicable and suitable for the repair of conveyor belts, rubber coating and linings as well as sealing of gaps. Breakthroughs and longitudinal cracks may for example be repaired up to any length.
Ambelt® Permaflex consists of a two-component polyurethane and features a fast processing time. After 30 minutes the processed spot may be ground or re-worked. There are two different ways of application depending on the intended purpose: Either by hand or with the help of a spray system.
Maximum flexibility: Ambelt® Permaflex is available as a starter or refill kit and also individual components in two sizes:
200x200mm
750x750mm
10.09.2015: Outlook Solids 2015
3 & 4 November 2015
Stand K13 – 5 – Halle 5
Zum zweiten Mal in Folge wird Ambelt® Förderbänder als Marke auf der Messe vertreten sein und den neugierigen Besuchern interessante Produkte aus der Fördertechnik präsentieren.2015 werden es bereits 440 Aussteller sein. Auch am Ambelt-Stand gibt es einige Neuigkeiten zu entdecken.
Geschäftsführer Ulrich Raddatz erklärt: "Ambelt® hat sich weiter am Markt etabliert und im letzten Jahr hat sich das Produktportfolio deutlich entwickelt. Nicht nur im Bereich Fördergurte, sondern auch in den Bereichen Verschleißschutz, Förderbandkomponenten und Reparaturmaterial hat Ambelt deutlich aufgestockt". Ambelt® präsentiert sich auf Stand K 13 – 5 im Mittelpunkt der Halle 5.
Das Team von Ambelt® Förderbänder freut sich auf Ihren Besuch und interessante Gespräche.
28.03.2015: Partnership H. B. Fuller - Helmitin bonding systems
Ambelt® Förderbänder extends its range by bonding systems, steel primer and cleaner of the Helmitin brand by H.B. Fuller. Ambelt® is official trade partner for Germany, Austria, Switzerland and Eastern Europe.
20.11.2014: Review Solids 2014
Die Messe "Schüttgut" gilt als Deutschlands bedeutendste Fachmesse für Schüttgut- und Recyclingtechnologien. In 2014 waren bereits 393 Aussteller und rund 5.000 Fachbesucher an zwei Messetagen unterwegs.
Die Fachbesucher am Ambelt-Messestand waren sehr interessiert, besonders unser 1,60m hohes Exponat, ein Wellkantengurt, hat zu intensiven Gesprächen angeregt. Ebenfalls lud unser Muster-Obelisk dazu ein, die für unsere Fördergurte verwendeten Materialien zu erfühlen und zu beschnuppern. Insgesamt wurden eine Menge Kontakte geknüpft und wir freuen uns schon, das nächste Mal wieder dabei zu sein.
10.09.2013: Successful Ambelt® trade fair presence
"Top" sagten die Besucher an unserem Messestand, und auch das Team von Ambelt® Förderbänder war von den Tagen auf dem Messedoppel recycling aktiv und TiefbauLive begeistert.
Vom 5. bis 7. September 2013 nahmen wir bei überwiegend blauem Himmel und glühenden 30 Grad an dieser einzigartigen Demonstrations-Show teil. Praxisnah und mit viel Hingabe stellten sich die 230 Aussteller auf der Messe im Baden-Airpark vor. Jeder Besucher, der Interesse hatte, wurde an den Ständen mit der Technik von Maschinen und Verfahren vertraut gemacht und durfte bei den Ausstellern selbst diverse Maschinen ausprobieren. Dieses Angebot wurde gut und gerne angenommen und das Publikum war begeistert - das Konzept der Demo-Messe ging demnach voll auf.
Die Vorführungen am eigenen Stand haben auch wir uns nicht nehmen lassen und zum ersten Mal kam unser neuer Werbefilm zum Einsatz. Ganz zur Freude unserer Messestandbesucher – denn es wurden anregende Gespräche zum Thema Förderbänder geführt, verschiedene Produkte erklärt und ein kühles Getränk zu sich genommen. Das Feedback unsere regionalen und auch internationalen Fachbesucher war hervorragend, und so wurde diese Ausstellung für uns zu einem großen Erfolg.