Products | Sandwich rubber scrapers
For material easy to scrape and for lower belt speed a sandwich rubber scraper is recommended for economic reasons. Sandwich rubber scrapers are made of rubber in the combination hard - soft - hard (65°- 47°- 65° shore).The exterior surface is made of 65° shore rubber having the hardness to clean the belt, the soft 47° shore core implies the necessary elasticity to endure vibrations.
Common rubber scrapers are directly available from stock in the thickness 15mm, 20mm and 30mm. We are happy to manufacture further measures upon request.
Technical data
For inquiries, please directly refer to the Ambelt® Serviceteam.
Contact
Ambelt® Förderbänder
Kreuztor 2
38126 Braunschweig
T. +49 (0) 531 609 440 211
F. +49 (0) 531 180 544 57
E. info@ambelt.de
Ambelt® catalogue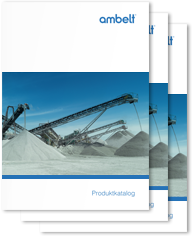 Download »