Products | Heat resistant conveyor belts
Heat resistant conveyor belts are highly resistant to hot material such as cement, steel or sand. The cover rubber of a conveyor belt consists of a special rubber compound featuring high adhesive strength, elongation at break and excellent thermal protection force. Using diverse elastomers heat resistance varies. Heat resistant Ambelt® conveyor belts manufactured according to DIN 22102 are able to convey material with a constant temperature of 200°C – short runs also up to 250°C.
Also available as Breaker/RipStop version.
Application areas:
Chemical sector
Fertilizer industry
Iron and steel industry
Foundries
Glass industry
Metalworking industry
Waste incineration
Cement plants
Technical data
For inquiries, please directly refer to the Ambelt® Serviceteam.
Contact
Ambelt® Förderbänder
Kreuztor 2
38126 Braunschweig
T. +49 (0) 531 609 440 211
F. +49 (0) 531 180 544 57
E. info@ambelt.de
Ambelt® catalogue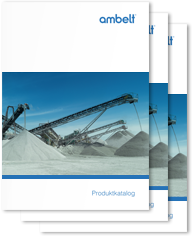 Download »