Products | Oil resistant conveyor belts
Grease, mineral oil and solvents may cause damages to normal textile conveyor belts. Even a short exposure to these substances may effect a swelling of the cover rubber. Therefore, Ambelt® offers oil resistant belts. The special rubber compound of the material reduces wear and increases the efficiency of the production. Ambelt's® product portfolio comprises the qualities MOR (medium oil resistant) and OR (oil resistant). The product specifications are also available in cross rigid XE-fabric.
Application areas:
Chemical industry
Fertilizer industry
Iron and steel industry
Feed industry
Grain silo
Glass industry
Wood industry
Metal processing industry
Recycling industry
Technical data
For inquiries, please directly refer to the Ambelt® Serviceteam.
Contact
Ambelt® Förderbänder
Kreuztor 2
38126 Braunschweig
T. +49 (0) 531 609 440 211
F. +49 (0) 531 180 544 57
E. info@ambelt.de
Ambelt® catalogue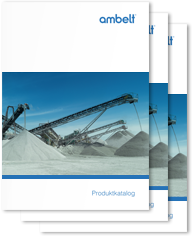 Download »