Product information | FAQ Ambelt
About Ambelt®
Which conveyor belt width can be produced by Ambelt®?
Ambelt® standard conveyor belt width are on stock. Non-standard belts are confectioned according to your requirements. Ambelt® produces conveyor belts from 100mm up to 4,500mm. Please note that a non-standard belt width does not automatically leadto higher production cost but the expected delivery time is about 5-12 weeks.
Where does Ambelt® produce its belts and protectionwear materials?
Ambelt® Förderbänder stands for quality rubber products. The highly abrasion-resistant styrene -butadiene rubber (SBR) or natural caoutchouk is used to produce conveyor belts. Our conveyor belts are produced in the European Union and in Asia. Forquality assurance, we have got our own Quality Control Center in Asia. We guarantee own product examinations as well as roll-specific test reports to assure you a standardized high quality. In Europe and Asia, Ambelt® works together with long-time partners. As we are convinced of our quality, we grant our customers a 100-day return option.
Which standard widths are there for conveyor belts?
Conveyor belts are available from stock at the following width: 500mm, 650mm, 800mm, 1000mm, 1200mm, 1400mm, 1600mm, 1800mm, 2000mm and 2200mm. Individualized products can be produced and delivered any time.
Is it possible to manufacture conveyor belts exactly according to customers' specifications?
Conveyor belts in the standard width and in the confections EP400/3 3:0, EP400/3 4:2, EP500/4 5:2 and EP630/4 6:2 are on stock. Furthermore, Ambelt® offers individualized solutions for the customers who can freely choose thickness, width, length and tensile strength as well as abrasion values. Also different specifications can be combined such as cross-stable conveyor belts with the oil resistant characteristic and a chevron belt profile. You are welcome to address any individual requirement to our service team.
Which payment conditions does Ambelt® offer?
Ambelt®'s customers are welcome to purchase on account. The prerequisite to do so is a successful credit screening at one of the leading commercial credit insurances. The regular term of payment is 30 days net. As many customers have to realize projectbusinesses, we offer you a payment term of 60 days for a small surcharge. Our silver and gold customers automatically receive an extended term of payment without surcharge.
How do the products reach me?
Ambelt® is aware of that fast action is decisive for many of our customers. Therefore, Ambelt® offers you the service assurance. As a secure transport isessential, we only work with the best: For the bulk transport, we cooperate with DB Schenker Logistics and for the parcel service with DPD. Your products are in safe hands. Should there occur any inconvenience though, product transport is 100% insured – automatically.
How to calculate the forwarding charges?
All transports from 4000 EUR are free of forwardingcosts. Should your purchase volume falls below the 4000 EUR, we charge small forwarding costs. TheAmbelt® service assurance is also valid here, that we only pass on the real transport cost without surcharges. Safety is first priority. The standard EU pallet is only made for 1000kg max. on one spot and2000kg max. when arranged evenly. All products with a higher weight are transported on a special pallet created by Ambelt®. For single way pallets, we charge 15 EUR and a packaging charge of 5 EUR. For silver and gold customers no charges apply.
What kinds of incentives does Ambelt® provide?
Ambelt® regularly is present in the industry press releases as well as on trade fairs. Our newsletter keeps you updated on current developments in the company. For further information, our press department is at your service any time.
Welche Anreizsysteme gibt mir Ambelt®?
Ambelt® assures not only quality products but also a service that you won't find elsewhere in the market. We offer you a payback program which is comparable to the popular miles & more program of popular airlines. You have the chance to choose among interesting benefits. The different stages guarantee more goodies such as extended terms of payment, the possibility of a consignment stock and sales returns. For your information, we provideyou regularly with our stock list. As we are convinced of our quality we grant our customers a 100-day return option on all products on stock.
How can I control Ambelt® conveyor belts?
Ambelt® conveyor belts are quality-tested and produced according to the strict standards of ISO 9001:2000, ISO 10012:2003 and ISO 14001:2004. On the running side of each conveyor belt our unique charge number is engraved. This enables you to track and allocate the conveyor belt. You can also find the charge number on the corresponding sales documents, e.g. on the delivery slip or on the invoice. The lifecycle of the conveyor belt is not influenced by the careful engraving on the bottom side of the belt.
Why does Ambelt® deliver conveyor belts with a solid rubber edge?
Textile layers are the core of each conveyor belt. Solid rubber edges protect the outer parts of the delicate textile versus mechanical, thermal, biological and chemical impact. As the lifecycle of the Ambelt® conveyor belts is important to us, a solid rubber edge is already included in the basic package automatically. Furthermore, the conveyor belt simply looks cleaner and of higher value with a solid uniform rubber edge on both sides. The thickness ofthe solid rubber edge may vary depending on the belt specifications and width of the belt.
Is it possible for Ambelt® to guarantee a neutral dispatch to my customer?
We are committed to a resource-saving value added chain. Part of this is to avoid unnecessary transports and freight costs. At all times, we guarantee documented customer exclusivity and dispatch your products neutrally with your delivery slip directly to your customers. If you are returning customer, we send your products in your corporate design (e. g. company specific containers, packaging tape etc.). Our logistic partners are bound by contract to neutral dispatch. Many of our customers take advantage of this service as much administrative work and costs can be saved.
What is a proof of preference and a proof of origin? Is Ambelt® able to issue these certificates?
A proof of preference is a crucial document prescribed by customs law for the import and export of products. The European Union has agreed upon bilateral preference treaties to minimize trade barriers due to customs. Thanks to the treaties, there are generally less or none custom duties to pay for. One of the most popular proof of preference isthe proof of origin, which clearly identifies the origin of the product and constitutes the base for customs simplifications and exemptions from customs. Of course, the Ambelt® service team advises you anytime and issues the necessary documents for you. Should you plan to export to a third party country, you are welcome to contact us beforehand as we have the possibility to export on short notice via our customs warehouse.
What kind of quality standards does Ambelt® offer?
Ambelt® produces its conveyor belts according to DIN 22102 standards. If you require other standards, please contact us. We are able to produce your belts according to any world-wide standards such as AS (Australia), SBS (South-Africa), NF (France), RMA (Great-Britain / USA) and many more.
Contact
Ambelt® Förderbänder
Kreuztor 2
38126 Braunschweig
T. +49 (0) 531 609 440 211
F. +49 (0) 531 180 544 57
E. info@ambelt.de
Ambelt® catalogue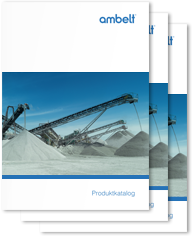 Download »