Products | Sidewall
To increase the conveying volume of the belt, sidewalls are often vulcanised to each side of the conveyor belt. These sidewalls are exposed to high forces – in the transverse direction the sidewalls have to carry the weight of the conveyed material, while in the longitudinal direction the sidewalls are stretched and compressed, in particular at the deflection area. Because of this Ambelt® sidewalls are characterized by a wear-resistant and highly flexible rubber quality. Depending on the application, conveying capacity and customer requirements, Ambelt® offers different heights of sidewalls (40 mm to 500 mm in height) as well as fabric reinforced sidewalls. Ambelt® recommends a fabric insert for any sidewalls higher than 140mm. If the sidewalls need to be screwed to the cleats, a fabric insert becomes necessary. 
Ambelt® offers the following pulley lagging qualities:
standard
oil resistant
acid resistant
flame retardant
heat resistant
Technical data
For inquiries, please directly refer to the Ambelt® Serviceteam.
Contact
Ambelt® Förderbänder
Kreuztor 2
38126 Braunschweig
T. +49 (0) 531 609 440 211
F. +49 (0) 531 180 544 57
E. info@ambelt.de
Ambelt® catalogue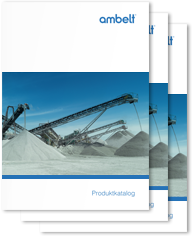 Download »