Products | Textile elevator belts
Elevator belts optimize transportation in limited spaces. Ambelt® elevator belts with EP-layers are produced according to strict regulations of the DIN22102 and DIN22104 standards. Elevator belts are highly qualified for upright conveyance of bulk material. Special designs according to customers' specifications may be realized any time. The elevator belts can be delivered ready-to-install including mechanical fasteners, bucket protection sheets as well as punched holes for bucket installation.
Application areas:
Iron foundries
Coal-fired power plants
Agriculture
Food production
Recycling industry
Cement plants
For inquiries, please directly refer to the Ambelt® Serviceteam.
Contact
Ambelt® Förderbänder
Kreuztor 2
38126 Braunschweig
T. +49 (0) 531 609 440 211
F. +49 (0) 531 180 544 57
E. info@ambelt.de
Ambelt® catalogue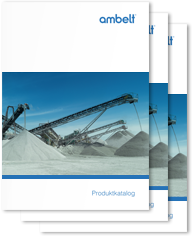 Download »