Products | Return pulleys
Return pulleys guide the belt from the lower run to the upper run, and don't have any driving function. Ambelt® sells particularly robust and easy-to-maintain return pulleys to ensure the longevity of your conveying system. The specification of the return pulley depends on several parameters such as the area of application, the amount of material being transported, the running speed of the belt and the belt specification. The Ambelt® team will be happy to advise you on the right selection of the return pulley.
To improve the friction between the drum and the belt and to increase the wear protection, Ambelt® recommends to coat the return pulley. Depending on the application, either rubber, ceramic or PU are recommended as coating material, which are also part of the Ambelt® product portfolio. 
For inquiries, please directly refer to the Ambelt® Serviceteam.
Contact
Ambelt® Förderbänder
Kreuztor 2
38126 Braunschweig
T. +49 (0) 531 609 440 211
F. +49 (0) 531 180 544 57
E. info@ambelt.de
Ambelt® catalogue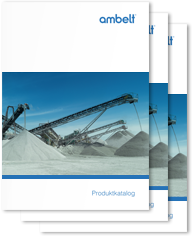 Download »